Product Introduction
DZ47Z-63K DC miniature circuit breaker series is mainly used in DC lines with rated voltage up to 1000V and rated working current up to 63A, for overload and short circuit protection of DC lines and infrequent conversion of lines. The circuit breaker is composed of a plastic casing, an operating mechanism, a contact arc extinguishing system, and a tripping mechanism. The shell is made of high flame-retardant, high-strength special plastic, which has strong impact resistance and light weight.
This product complies with GB10963.2 and IEC60947-2 standards.
Model Meaning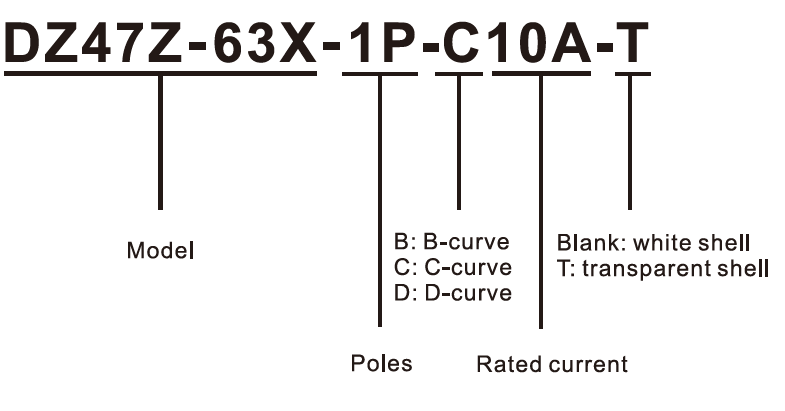 Technical Parameters
Short circuit protection
Overload protection 
(overcurrent protection)
Isolation function
Auxiliary control function
Rated current In: 1A, 2A, 3A, 4A, 5A, 6A, 10A, 16A, 20A, 25A, 32A, 40A, 50A, 63A;
Rated working voltage U: DC250/DC500V/DC750V/DC1000V;
Rated short-circuit breaking capacity Icn: 6kA
Rated impulse withstand voltage Uimp (1.2/50): 6KV
Number of poles: 1P single pole, 2P double pole, 3P triple pole, 4P quadrupole;
Trip form: thermal magnetic trip;
Tripping characteristics: C type (5ln~10ln), D type (10In~20In);
Current limiting level: 3
Ambient working temperature: -30ºC~70ºC
IP grade: IP20;
Pollution level: 2;
Installation method: Installation: where there is no significant vibration and shock, tunnel wiring
Terminal, can be easily installed on TH35-7.5 type DIN standard rail
Installation torque: 1~32A and below: 2.5N, 40-63A: 3.5N.
Mechanical and electrical life:
a. Electrical life: not less than 8000 times;
b. Mechanical life: not less than 10,000 times.
Compliant with the standard: GB10963.2/IEC60947-2
Compliance certification: CCC, CE
Application place:
It is used in DC power power system, electric propulsion system, photovoltaic power system (photovoltaic combiner box) and other places.
Size