Product Introduction
DZ47-63 (B) DC circuit breaker, specially used for electric vehicles, motorcycles, lighting circuits, switching power supplies, UPS power supplies, security monitoring circuits and other places, unipolar rated voltage DC 12V-120V, rated current up to 63A It has overload and short-circuit protection in the line, and can also be used for infrequent on-off electrical devices under normal conditions.
This product complies with GB10963.2 and IEC60947-2 standards.
Model Meaning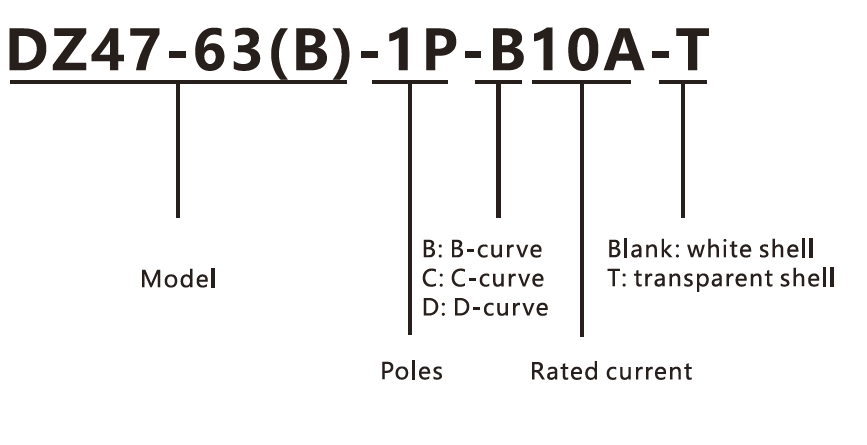 Protections and Functions
Short circuit protection
Overload protection 
(overcurrent protection)
Isolation function
Auxiliary control function
Technical Parameters
Rated current In: 1A、2A、3A、4A、5A、6A、10A、16A、20A、25A、32A、40A、50A、63A;
Rated working voltage U: DC12~120V, DC12V/DC24V/
DC36V/DC48V/DC60V/DC72V/DC96V/DC110V etc;
Rated short-circuit breaking capacity Icn: 4.5kA;
Rated impulse withstand voltage Uimp (1.2/50): 4KV;
Number of poles: 1P single pole, 2P double pole;
Trip form: thermal magnetic trip;
Tripping characteristics: B type (3ln~5ln);
Current limiting level: 3;
Ambient working temperature: -30℃~70℃;
IP grade: IP20;
Pollution level: 2;
Installation: where there is no significant vibration and shock, tunnel wiringTerminal, can be easily installed on TH35-7.5 type DIN standard rail;
Installation torque: 1~32A: 2.5N, 40~63A: 3.5N;
Mechanical and electrical life:
a. Electrical life: not less than 8000 times;
b. Mechanical life: not less than 10,000 times;
Compliant with the standard: GB10963.2/IEC60947-2;
Compliance certification:  CE;
Application place:
It is used in DC power power system, electric propulsion system, photovoltaic power system (photovoltaic combiner box) and other places.